Draco Performance was established in 2002 when former NASCAR Craftsman Truck Driver, Barry Bodine, realized his dream was
not just to be in the driver's seat, but to start his own business and share his passion in all types of automotive performance with the world.
While maintaining his passion for racing and his presence in the racing community, he and his wife Leslyn began building their performance business from the ground up.
Leveraging himself with his and his family's reputation and experience, he started to build relationships with performance manufacturing and warehouse owners and started to make the way for Draco Performance.
In addition to Barry's racing experience in the NASCAR Craftsman Truck and Busch Series is a championship with the Jr. Karting Association, another championship in the Legends Car Series, Crew Chief for his father, Geoffrey Bodine, on his NASCAR Craftsman Truck, Spotting full time for his father in the NASCAR Winston Cup, Busch and Craftsman Truck Series and being a crew member during off racing time when he was the Craftsman Truck driver for Prime Performance.
We knew that all this combined with his first hand knowledge and hands on experience of ideal car set-ups under any condition, custom fabrication, and an insiders know how for vehicle performance would  give us an edge and carry through to the success and reputation of our own business.
The Bodine name in itself has been associated with championship levels of racing, patented race seat designs, power steering, full faced helmets in racing, world class automotive care product lines (Geoffrey Bodine Waxing Frenzy!) and most recently, the United States Olympic Bobsled Team with the first ever American made bobsleds that have taken our athletes to Bronze, Silver and Gold Medal heights for the first time in history with the contribution and design of the Bo-Dyn Boblsed.  All of this achieved by his father, Geoffrey Bodine, and Barry has been by his side through it all collecting first hand knowledge as well as hands on experience.
What makes Barry different from others trying to enter such a competitive industry is that his knowledge is not based on the most recent magazine articles, but his complete understanding of cars and performance from a more scientific approach, knowing the hows and why's of it and how he can make decisions based on a customers' actual needs and goals rather then giving in to what a popular trend might be and achieving the maximum output for the customer's dollar.  This skill is particularly scarce in the industry today resulting in many unhappy enthusiasts that have since turned to Barry for his expertise in this field.
Barry being interviewed at Homestead-Miami Raceway, 2002, by ESPN during his NCTS qualifying.

Barry, age 17, Craftsman Truck Series Race, 1996 and father, NASCAR Champion, Geoff Bodine.

Barry signing autographs, Homestead-Miami Raceway,

Homestead

,

FL

, 2002.
Barry and Geoff, ready to take off in a BoDyn replica bobsled for the Bodine Bobsled Challenge, inaugural event in 2006 held in
Lake Placid
,
NY
.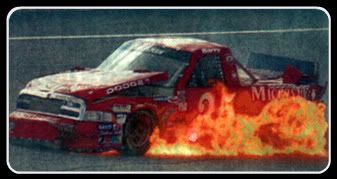 Barry was hit during a caution by former NCTS driver, Larry Gunsleman at Daytona International Speedway, Daytona, FL, Feb-2001.